Table tennis for charity
Posted by Press Editor on 7 October 2017
It was with great pleasure that we once again held a pre-season tournament and fund raiser on Sunday 17th September 2017, assisted by our official sponsors GEWO table tennis and hosted by Stockport Table Tennis Academy. 
Not only didl everyone have the opportunity to compete for trophies and prizes, but we were raising money for the We Love Manchester Charity.  Every entry included a limited #lovewins Bee T Shirt.
The suicide bombing on the 22nd May 2017 at the Manchester Arena shocked all of us including the local Manchester and Cheshire table tennis community.  Our tournament on the 17th September was our way of helping to raise funds for the victims and those affected by this terrorist attack. Funds raised on the day came to over £1000.
Date of Event
Sunday 17th September 2017
Venue
Stockport Table Tennis Academy Cheadle College, Cheadle Rd, Cheadle SK8 5HA
Playing on 12 tables.
Results
Band 1 singles was won by Ryan Choong beating Matthew Goldie 11-8, 11-4, 11-4
Band 2 singles was won by Ivan Kouril beating Andy Wilson 11-4, 11-6, 11-7
The Open Doubles, Keith Deaville & Simon Mear beat Yaroslav Zubets and Norris Fung 2-11, 11-6, 11-9, 11-9
The Handicap Singles was won by Ryan Choong beating Bart Batbold 39-35
Juniors was won by Sandy Choong beating Kevin Ye 11-4, 11-1, 11-1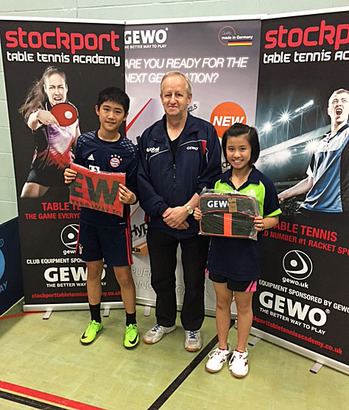 Thanks to all the fantastic volunteers who helped on the day, this wouldn't have taken place without your time and effort. Table Tennis is a Sport For Everyone For Life!
Beginner sessions take place every Sunday at 2.15 til 3.15pm.
"Pay and Play" sessions every Sunday at 3.15pm all at STTA Cheadle College.